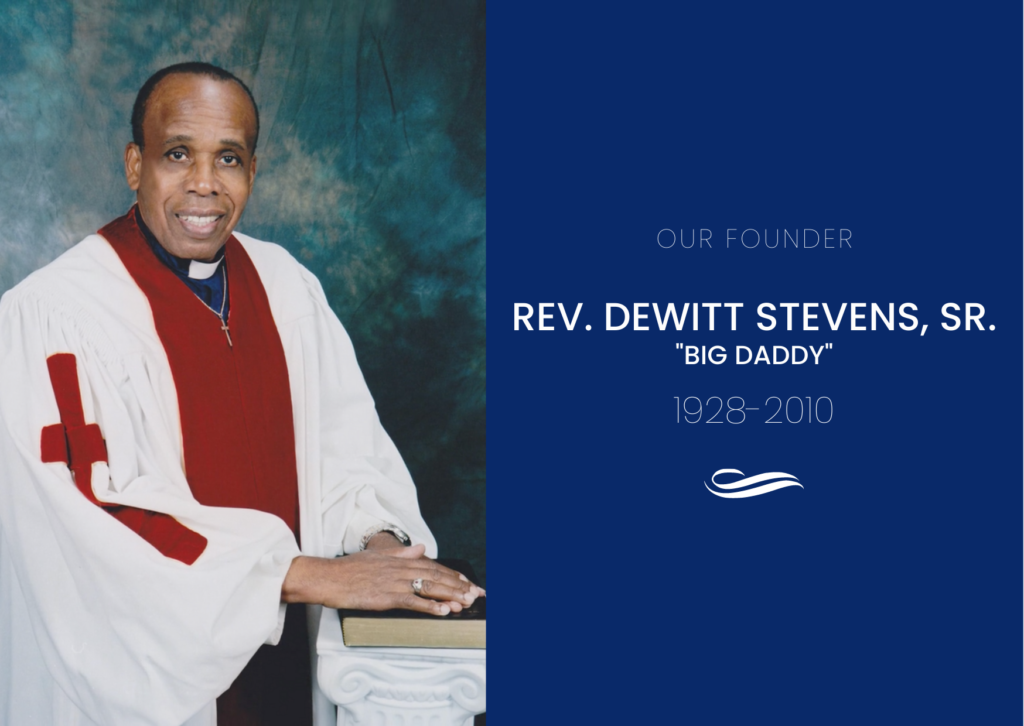 Reverend DeWitt Stevens Sr. was born on January 7, 1928 to the late Washington and Beatrice Stevens in Surrency, Georgia. He was the second youngest of nineteen children.
Reverend Stevens served in the US Army for several years and after receiving an honorable discharge from the U.S. Army, he married his childhood sweetheart and the love of his life, Eva Jones. The two shared 62 years of marriage. Born from this union were five children: Raymond (deceased), Diantha, Norma Jean, DeWitt, Jr. and Gary.
As a youngster, Reverend Stevens took a special interest in music. He learned how to play the piano and cultivated his singing abilities. His passion for music greatly influenced his children and evolved into a family tradition. Recognizing that his children demonstrated exceptional singing abilities, Reverend Stevens encouraged them to both sing and play the piano. He later formed a gospel singing group featuring his children which was called "The Stevens Stars". The group quickly gained notoriety throughout the country which allowed them to perform on various platforms. Meanwhile, Reverend Stevens' knack for promotion allowed him to encourage top recording artist such as Shirley Caesar, James Cleveland, The Raymond Raspberry Singers, The Dixie Hummingbirds and The Gospel Caravans to perform in the Norwalk and surrounding areas.
Reverend Stevens also pursued other career paths and became a licensed real estate broker and an insurance agent for New York Life Insurance Company. In his twenty year career with New York Life Insurance Company, he was afforded many honors, including becoming a qualifying member of The Million Dollar Round Table and a Notary Public. He received awards such as the National Quality Awards, National Sales Achievement Award and Top Club Award. Reverend Stevens also served as a member of the NAACP and National Association of Life Underwriters in which he was featured and received recognition in Life Magazine as one of the top African-American male Life Insurance Underwriters.
Reverend Stevens' entire life consisted of living out his faith in Jesus Christ and in serving others. During his middle-age years, he believed that he had a call on his life to enter into ministry and to preach the gospel. In 1964, Reverend Stevens was called to pastor Goodwill Baptist Church in Ridgefield, Connecticut where he served until 1969. He later went into evangelism until 1978 after which he organized and founded the Macedonia Church in Norwalk, Connecticut. Within that year, he called for his son, Reverend DeWitt Stevens, Jr. and wife, Addie Stevens to assist him in ministry. Under their leadership, many souls were brought into the Kingdom of God and the ministry began to grow. After many years of pastoral service, Reverend Stevens retired with wife, Eva leaving his son, Dewitt Stevens, Jr., to continue the ministry.


After retiring, Reverend Stevens and Eva leisurely spent time between their homes in Norwalk, Connecticut and West Palm Beach, Florida. He also enjoyed spending time with his grandchildren and traveling to various countries. During his travels, he had the opportunity to meet boxer Mohammed Ali and recording artist Stevie Wonder.
His favorite hobbies were singing, playing the piano, and swimming. He will be forever remembered for his wise story telling and moniker "Big Daddy". His life and legacy will forever live in the hearts of those he touched.